Services & Support
Everything from Admissions to Tutoring
How Can We Help?
At EICC, you are a valuable member of our community, and we want your experience here to be fun and rewarding. From the admissions process to graduation, our staff will help you succeed.
What Do You Need?
Career Services
EICC's Career Services department helps you refine goals, search for jobs, and launch a profession. Looking for work or an internship? Regional and national employers post openings on our job posting site. Upload your resume. Refresh it first using our free online tool. Meet with an EICC career coordinator to do a mock interview or to learn more about career pathways.
REACH YOUR CAREER GOALS
Counseling Services
Yes, you can do this. You can achieve your goals, and we are here to help. Need some coping strategies or just want to talk? Our Student Assistance Program provides free, confidential mental health services, including short-term counseling and referrals. Meet with a counselor in person or via Telehealth. Just call 309-779-2273 or 800-383-7900 to schedule an appointment.
GET HELP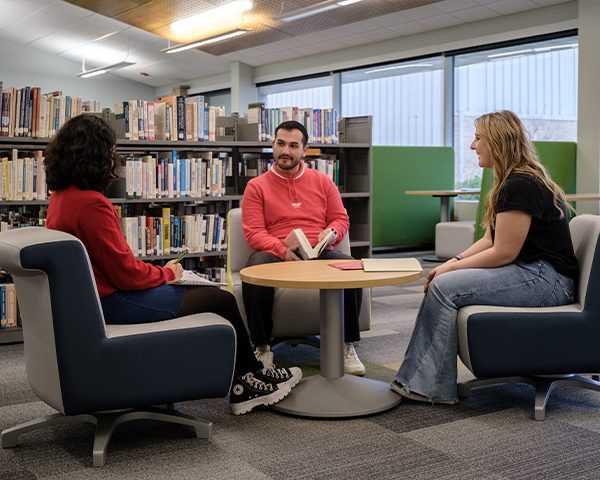 Disability Services
We ensure all students have equal access to our programs and activities. We offer reasonable accommodations that may include adaptive furniture, assistance with class notes, test-taking, and accessible materials.
FIND DISABILITY ASSISTANCE
Financial Aid
Financial aid comes in many forms, including federal loans and grants, state awards, and scholarships. Access your information anytime through EICConnect. Navigate to Self Service - Financial Aid to view your awards and refunds. Keep on top of financial aid application deadlines, including FASFA. Questions? We're here.
LEARN MORE ABOUT FINANCIAL AID
Libraries
Visit your campus library. Use the computers. Ask staff for help with research. Find a nook and enjoy a quiet place to study. Not on-campus? Visit EICConnect to access electronic resources, including e-books, magazines, videos, and databases.
VIEW LIBRARY RESOURCES
Registration & Records
Need an unofficial or official EICC transcript? Or to have your courses from another school evaluated for EICC credits? Stop by or jump online. You can view your unofficial transcript by connecting to EICConnect and navigating to Self Service - Academics - Unofficial Transcript.
REQUEST A TRANSCRIPT
Tutoring
Need some extra help? We offer drop-in and scheduled tutoring on each campus, and online, too. You can also get a writing consultation via email. Visit our tutoring centers for more information on services and schedules.
EXPLORE ACADEMIC RESOURCES