Graduation doesn't mean 'goodbye.' Stay connected through your Alumni Association. Attend an event and catch up with former classmates. Volunteer and support a student, your college, or a program. You have so much to share.
Career Services
EICC's Career Services department helps you refine goals, search for jobs, and launch a profession. Looking for work or an internship? Regional and national employers post openings on our job posting site. Upload your resume. Refresh it first using our free online tool. Meet with an EICC career coordinator to do a mock interview or to learn more about career pathways.
REACH YOUR CAREER GOALS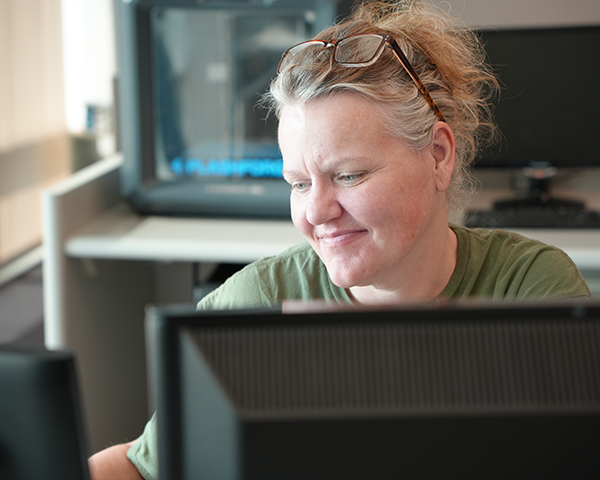 Continue Learning
Stand out and step up in your career. Our Continuing Education programs are key to building new skills, knowledge and credentials. We meet the needs of busy adults. Flexible scheduling options. Online coursework. Experienced instructors with industry connections and valuable real-world insights. Invest in your future. Your success is just a few courses away.
EXPLORE CLASSES
Don't settle for mediocrity
Looking to gain mastery in a specific skill set? Our microcredential programs are fast and focused. It's your pathway to upskill, stand out, and move ahead of your peers. These programs drive professional learning, online or in an EICC classroom. Whether you want to advance in your current position or make a career change, we help you achieve your goals. Don't settle for mediocrity - enroll in our programs today.
ENROLL TODAY
Registration & Records
Need an unofficial or official EICC transcript? Or to have your courses from another school evaluated for EICC credits? Stop by or jump online. You can view your unofficial transcript by connecting to EICConnect and navigating to Self Service - Academics - Unofficial Transcript.
REQUEST A TRANSCRIPT
Thanks for choosing us
Look where you are standing. How'd you get here? Was it an EICC education or training? A mentor who guided your path? A supportive network of instructors who encouraged you to keep going and reminded you that yes, you can achieve your dreams.
Think about how much stronger our region would be if everyone had those same opportunities and influences in their lives. Join us and play a part in making that happen.
Through the generosity of donors, students who never thought they could afford a college education are sitting in our classrooms. They are hands-on, learning on the same equipment they will use in their careers. They graduate and take their skills to local employers, filling high-demand jobs in healthcare, manufacturing, IT, and more. They establish careers and plant roots in our region, and enjoy a great life. EICC graduates like you are actively contributing to our communities, helping businesses succeed and even starting some of your own.
We are grateful for the impact our donors have on key programs at EICC. Your gift allows us to award scholarships and grants, skill students in state-of-the-art labs, and hire instructors who do more than teach – they care.
Help us give more students the opportunity to stand where you are.
Learn more about our college foundations.