Pre-Engineering Pathway
Associate in Arts (AA) Degree
APPLY
Plan to earn a bachelor's degree in engineering? Start with us. You get a top-quality education and save money, too. Learn from instructors who are experts in the field. Graduate in as little as two years and move on to your transfer college. You are more than prepared. You are ready to succeed.
What You Learn as a Pre-Engineering Major
This is a great start to your bachelor's degree. Study the mechanics of solids, electrical science, and dynamics. Other courses give you the general education credits you need to transfer.
What Can I Do With an Engineering Degree?
Choose an engineering specialty: civil, mechanical, industrial, aerospace, environmental, IT, chemical. Then pursue it with all you've got. You can design and develop aircraft, create computer systems and software, solve problems related to fuels and drugs, or design major infrastructure projects. The engineering field is wide and opportunities are plenty.
Electrical Science
Let's analyze
Electrical Science
Build fundamentals in circuit theory, steady state AC, and more.
Thermodynamics
1st & 2nd laws
Thermodynamics
Classical thermodynamics. Study heat, energy, ideal gases, and much more.
Mechanics of Deformable Bodies
Breakdown solids
Mechanics of Deformable Bodies
Study the stress and strain in structural elements resulting from loading.
Psychology
Here's a microscope
Psychology
Examine the fundamentals of behavior. Study theory and research.
Similar Programs
Not quite right? Consider these instead:
Tutoring
Need some extra help? We offer drop-in and scheduled tutoring on each campus, and online, too. You can also get a writing consultation via email. Visit our tutoring centers for more information on services and schedules.
EXPLORE ACADEMIC RESOURCES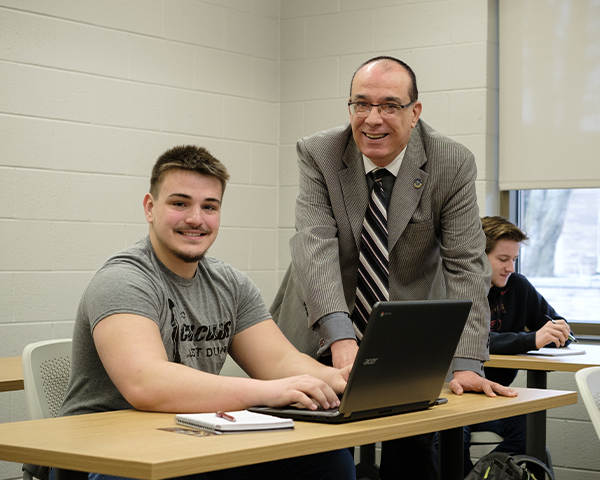 Transfer Major
If EICC is your first stop to a four-year degree, consider our Transfer Major Associate Degree program. We've partnered with universities and colleges to layout the precise course path you complete here before you transfer to the four-year college. Complete general education courses as well as courses required for your major here. The credits fully transfer toward your bachelor's degree.
Learn about Transfer Majors
Your Degree = Success
Planning to earn a bachelor's? Start here, then transfer your credits or associate's degree. Studies show community college students who transfer into a four-year do better than the students who started there as freshmen.
Get a remarkable education and remarkable head start at EICC.
Explore the value of an associate's degree
Keep Your Transfer Plan Current
Maybe your intended next college has added a new major or maybe you've discovered a new interest. Check with your EICC advisor regularly and keep your own checklist going so you're on the right path making the right progress.
TRANSFER PLANNING
What if I transfer to
Your credits will transfer to any other accredited institution. We've worked out transfer agreements with select partner colleges and universities. Contact your advisor to know exactly how your credits will work at:


How EICC Fits Your Goals
Maybe the 4-year where you plan to transfer has added a new major or perhaps you discovered a new career field. We're here to guide and support you, so let us know. Keep in regular contact with your EICC advisor and lean on these services and resources, too.
Contact Admissions
Contact the admissions representative from the college you plan to attend. If you're not sure, you may contact any rep. Each can answer questions about any college or program.
Office Hours: Monday - Friday, 8 a.m. - 4:30 p.m.
Request Info
Pre-Engineering: Locations