Science, Technology, Engineering & Mathematics
Study biology, chemistry, physics, and so much more.
Apply
More than subjects. These are the tools of innovation. Study biology, chemistry, physics, renewable energy, and so much more. This pathway leverages your curiosity, collaboration, and critical thinking skills, and it will lead our world forward.
Science, Technology, Engineering & Mathematics Programs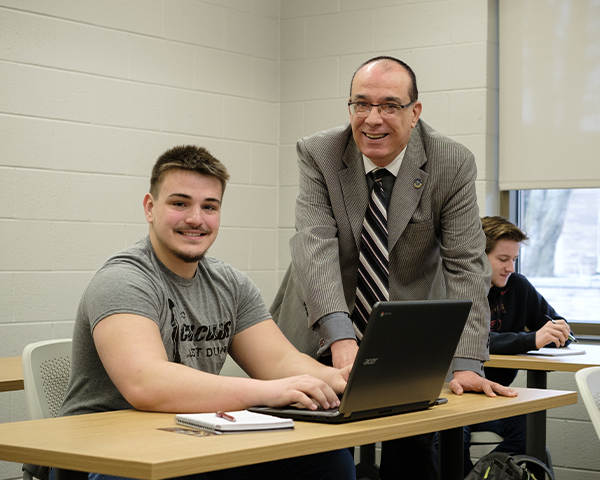 Transfer Major
If EICC is your first stop to a four-year degree, consider our Transfer Major Associate Degree program. We've partnered with universities and colleges to layout the precise course path you complete here before you transfer to the four-year college. Complete general education courses as well as courses required for your major here. The credits fully transfer toward your bachelor's degree.
Learn about Transfer Majors
Tutoring
Need some extra help? We offer drop-in and scheduled tutoring on each campus, and online, too. You can also get a writing consultation via email. Visit our tutoring centers for more information on services and schedules.
EXPLORE ACADEMIC RESOURCES
Financial Aid
Financial aid comes in many forms, including federal loans and grants, state awards, and scholarships. Access your information anytime through EICConnect. Navigate to Self Service - Financial Aid to view your awards and refunds. Keep on top of financial aid application deadlines, including FASFA. Questions? We're here.
LEARN MORE ABOUT FINANCIAL AID
Your Degree = Success
Planning to earn a bachelor's? Start here, then transfer your credits or associate's degree. Studies show community college students who transfer into a four-year do better than the students who started there as freshmen.
Get a remarkable education and remarkable head start at EICC.
Explore the value of an associate's degree
Contact Admissions
Contact the admissions representative from the college you plan to attend. If you're not sure, you may contact any rep. Each can answer questions about any college or program.
Office Hours: Monday - Friday, 8 a.m. - 4:30 p.m.
Request Info