Pre-Chiropractic
Associate in Science (AS) Degree, Associate in Arts (AA) Degree
Apply
The human body is amazing and you can help people live their best life. Our partnership with Palmer College of Chiropractic is a path to achieve that goal. Spend two years with us. Save money. Get a great education and an associate's degree. And check off admission requirements for Palmer.
What You Learn in the Pre-Chiropractic Program
Enroll in the Joint 2 + 2 Transfer Program. You earn an associate's and check off courses Palmer requires. Take some general education and electives in math and science. Learn anatomy and physiology, study organic compounds, and develop problem-solving skills. We'll guide you through the program.
What Can I Do With a Doctor of Chiropractic Degree?
You evaluate and treat the neuromusculoskeletal system, which includes nerves, bones, muscles, ligaments, and tendons. People will come to you with back and neck pain, uncomfortable joints, and more. The clinical interventions you provide help them live full and active lives. Join a practice or start your own.
General Biology
Why divided?
General Biology
Study chemical applications, cell division, genetics, and more.
Statistics
More than numbers
Statistics
Obtain, present, and organize statistical data.
Human Anatomy & Physiology
Let's survey
Human Anatomy & Physiology
Dive into the structure and function of the human body.
General Chemistry
There's a spark
General Chemistry
Dimensional analysis, gases, atomic structure, chemical bonding, etc.
Similar Programs
Not quite right? Consider these instead: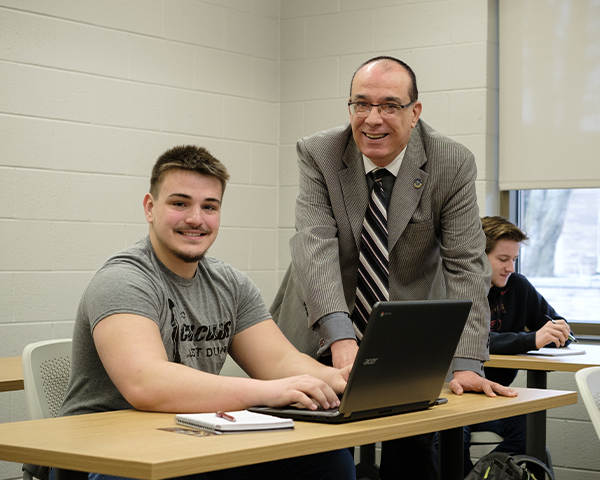 Transfer Major
If EICC is your first stop to a four-year degree, consider our Transfer Major Associate Degree program. We've partnered with universities and colleges to layout the precise course path you complete here before you transfer to the four-year college. Complete general education courses as well as courses required for your major here. The credits fully transfer toward your bachelor's degree.
Learn about Transfer Majors
Tutoring
Need some extra help? We offer drop-in and scheduled tutoring on each campus, and online, too. You can also get a writing consultation via email. Visit our tutoring centers for more information on services and schedules.
EXPLORE ACADEMIC RESOURCES
2+2 = Savings
Here's a secret: biology is biology no matter where you take the course. But the cost isn't the same. Do your first two years at EICC and wipe out those required general education courses, then transfer to finish your Bachelor's degree. The 24 months and 60+ credits you earn with us will cost less than one semester at most public or private universities. Save your money. High-quality and low-cost. That's our niche.
Employment and Wage Outlook
How EICC Fits Your Goals
Maybe the 4-year where you plan to transfer has added a new major or perhaps you discovered a new career field. We're here to guide and support you, so let us know. Keep in regular contact with your EICC advisor and lean on these services and resources, too.
Contact Admissions
Contact the admissions representative from the college you plan to attend. If you're not sure, you may contact any rep. Each can answer questions about any college or program.
Office Hours: Monday - Friday, 8 a.m. - 4:30 p.m.
Request Info
Pre-Chiropractic Pathway: Locations