Graphic Arts
Associate in Applied Science (AAS) Degree, Diploma, Certificate
Apply
Apply your creativity. In fact, make it a career. Our fully-online program is taught by expert instructors who hold you to the details and deadlines. Master industry standard Adobe software – Illustrator, InDesign, Photoshop, and Dreamweaver. Our graduates excel in careers they love. Iowa's Last-Dollar Scholarship may even cover your tuition.
What You Learn in Graphic Arts Technology
In two terms, build the core skills needed to work in graphic arts, marketing, and advertising. Give us another year and we'll teach you front-end web development, Wordpress, packaging design, social media campaign marketing, the visual side of game design, mobile apps, and photography.
What Can I Do With a Graphic Arts Degree?
Be creative and make a great salary for doing so. Work in advertising, for a printing company, publisher, newspaper, sign maker, and so much more. Specialize as a front-end web developer, packaging designer, illustrator, animator, or game designer. Your skills are sought and valued within every industry.
Packaging Design
Box it up!
2D Design
Explore 3D packaging design and assembly through hands-on drafting and digital tools.
Illustrator
Master software and create logos, charts, graphs and more.
Social Media Branding
Influencer
Social Media Branding
Manage the brand and social strategy. Optimize it for industry.
User Experience (UX)
User-centered design
User Experience (UX)
Analyze user problems, research and prototype digital interactions for web and mobile.
Similar Programs
Not quite right? Consider these instead: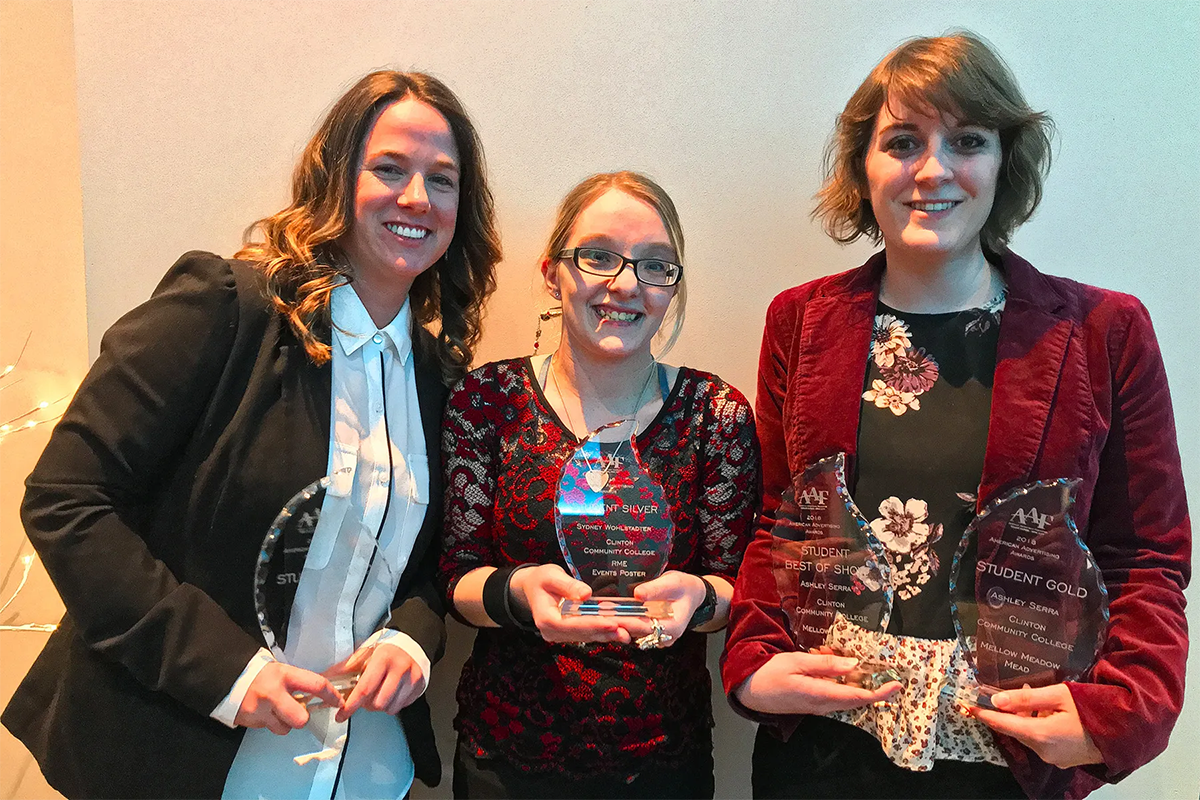 "My Best of Show and Gold piece was my favorite artwork I've created at CCC so far, so knowing the judges agreed was satisfying. Art and design are so subjective that you never really know how you'll do in a competition. So when I heard my name called in the middle of the presentation, it felt a little surreal."
Ashley Serra, '20
Read more about the Addy Awards
Ready to Get Started?
Our program prepares you for a great career. Graduate with technical skills and real-world experience. Here's more details:
Since the Graphic Arts Technology program is fully-online, you will need:
The Graphic Arts Technology program gives you the flexibility of a 100% online program and face-to-face time with your instructors. Set up a Zoom or in-person meeting during their office hours. They will even provide project critiques in video format.
Transfer agreement information for:
UNI
University of Dubuque
Western Illinois University
Iowa's Last-Dollar Scholarship
You may be eligible to earn a degree in this high-demand field for zero tuition costs! You file for financial aid, and if your Expected Family Contribution is at or below $20,000, the state covers the remaining balance beyond the aid for which you are eligible. More than two dozen career programs qualify, including this one. File your FAFSA by July 15.
Learn More
Dedicated Program Advisor
We know your time is valuable and we honor it. Our program has one advisor who is dedicated to supporting you every step of the way through graduation. One call or one email, to one person. Get all of your questions answered, guidance on courses and schedules, and a familiar face and voice who recognizes yours, too.
Contact Mat
Online to Fit Your Needs!
With more than 1,000 online students each semester and years of experience, we are an established leader in online education. Take classes on your schedule and be fully supported in reaching your goals. In addition to your instructor, take advantage of advising, tutoring, and all services EICC students enjoy.
LEARN MORE
Tutoring
Need some extra help? We offer drop-in and scheduled tutoring on each campus, and online, too. You can also get a writing consultation via email. Visit our tutoring centers for more information on services and schedules.
EXPLORE ACADEMIC RESOURCES
Your Degree = Success
Complete your education in two years. Qualify for better jobs. Earn a higher salary. Enjoy a better quality of life. The benefits of an associate's degree are impressive and wide-ranging.
Explore the value of an associate's degree
Employment and Wage Outlook
How to Pay for EICC
College is more affordable than you think, especially when you factor in federal and state aid, loan options, scholarships, institutional grants, and Work-Study.
Contact Admissions
Contact the admissions representative from the college you plan to attend. If you're not sure, you may contact any rep. Each can answer questions about any college or program.
Office Hours: Monday - Friday, 8 a.m. - 4:30 p.m.
Request Info
Graphic Arts Technology Location Online
Online Program
Yes, EICC fits into your life. Take our courses anywhere. Login at home on the couch or in the back of a breakroom. Our online learning platform lets you view lessons, access materials, submit assignments, and easily connect with your instructor. Have questions? We're here to help.
LEARN MORE ABOUT ONLINE CLASSES