CNC Machining
Diploma, Certificate
Apply
A challenging, hands-on career. And a quick path for entry. In our CNC programs, gain the skills to design a project from concept to part, and move from the classroom into a great job. You can also upskill or reskill. Iowa's Last-Dollar Scholarship may even cover your tuition.
What You Learn in CNC Machining
CNC programmers are the brains behind manufacturing computers. They tell machines what to produce and how to do it. It takes some know-how, and you study subjects like math and blueprint reading. But once you get the hang of it, you can enjoy a great career — and the income to match.
Learn online, in the classroom, and hands-on in the lab. Use the same equipment as pros in the field. Want to get a college award or just the training? We offer both. The only difference is how your tuition gets paid, and we're happy to walk you through your options.
What Can I Do With a CNC Programming Diploma?
Manufacture precision parts and products used throughout the world. Work as a CNC machinist, operator, or programmer. Join a small shop or work for a global equipment manufacturer. You can also specialize your career in plastics, aerospace products, parts manufacturing, and more.
Applied Math Topics
What runs the world? Math.
Applied Math Topics
Programming requires a lot of math know-how, but you've got technology on your side.
Metallurgy
What's the difference?
Metallurgy
Learn how metals differ in hardness, durability, resistance, and weldability.
Workplace Safety
OK, cut it … but safely.
Workplace Safety
Look out for that stray electrical cable, frayed wire, unsafe height, or spilled substance.
Intro to CAD/CAM
It's all about movement.
Intro to CAD/CAM
G codes get your tools moving, but there's some geometry and trigonometry involved, too.
Similar Programs
Not quite right? Consider these instead:
"Many people say women are better machinists because they have steady hands and great attention to detail. But no person would have trouble landing a job before they graduate from this program. Everyone is looking for skilled machinists right now, and companies are excited when females apply because there are very few in the field."
Taylor Reth, Computer Numeric Control (CNC) Machining Instructor
Read more about Taylor Reth
Academic Programs vs. Training Programs
Often, EICC students who just want career training sit in the same classroom, learn the same material, and are taught by the same instructor as those working on a degree. You can choose either path. Academic programs are eligible for financial aid and scholarships. Training programs may be covered by other funding sources. We'll outline your options.
Iowa's Last-Dollar Scholarship
You may be eligible to earn a degree in this high-demand field for zero tuition costs! You file for financial aid, and if your Expected Family Contribution is at or below $20,000, the state covers the remaining balance beyond the aid for which you are eligible. More than two dozen career programs qualify, including this one. File your FAFSA by July 15.
Learn More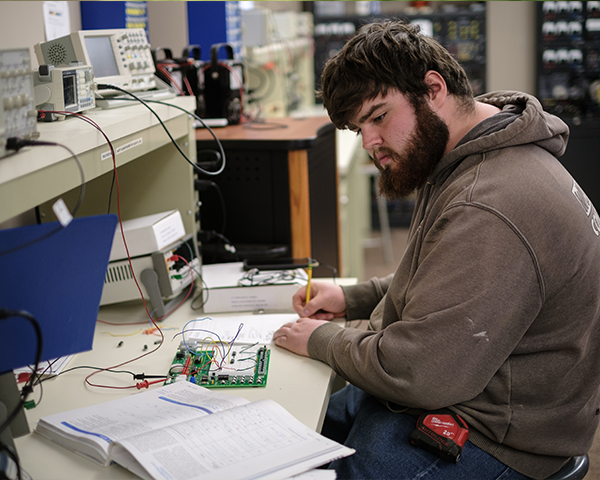 Flexible Eight Week Sessions
Courses are offered in an eight-week format. Take day or evening classes throughout the year, when it works best for you. Focus all of your attention on one subject at a time. Progress through the program faster. And every eight weeks, celebrate another milestone in your education. You mastered that skill. You are more than ready to crush the next.
Dedicated Program Advisor
We know your time is valuable and we honor it. Our program has one advisor who is dedicated to supporting you every step of the way through graduation. One call or one email, to one person. Get all of your questions answered, guidance on courses and schedules, and a familiar face and voice who recognizes yours, too.
CONTACT KASEY
Career Services
EICC's Career Services department helps you refine goals, search for jobs, and launch a profession. Looking for work or an internship? Regional and national employers post openings on our job posting site. Upload your resume. Refresh it first using our free online tool. Meet with an EICC career coordinator to do a mock interview or to learn more about career pathways.
REACH YOUR CAREER GOALS
Start in High School
Get a jump on your college education while you are in high school. Through our Career Academies, complete a semester to a full year of courses. It's free and cuts down on the time you spend completing your EICC degree, often in half. Save time and money, and launch your career sooner.
LEARN MORE ABOUT CAREER ACADEMIES
Ready to Launch?
Start here. Earn a certificate. Build new skills in a short-term program. Step into the field and enjoy the edge you now have in the job market. From baking to digital analytics, we give you a launching pad.
Where do you want to go?
Employment and Wage Outlook
How to Pay for EICC
College is more affordable than you think, especially when you factor in federal and state aid, loan options, scholarships, institutional grants, and Work-Study.
Contact Admissions
Contact the admissions representative from the college you plan to attend. If you're not sure, you may contact any rep. Each can answer questions about any college or program.
Office Hours: Monday - Friday, 8 a.m. - 4:30 p.m.
Request Info
CNC Programming: Locations