Secondary Education
Associate in Arts (AA) Degree
Apply
Do you enjoy working with teens? Launch your teacher education at EICC. Our guaranteed Transfer Major program makes it possible to earn a secondary education degree in four years. Enjoy low-cost tuition and high-quality education. Courses are available online and in-person.
What You Learn as a Secondary Education Transfer Major
Study educational theory and ways to work with exceptional learners. Gain a broad introduction to the teaching field and complete 40 hours of classroom observation. This is a great start to your bachelor's degree. General education courses give you the credits you need to transfer. Graduate prepared to succeed at a four-year college.
What Can I Do With A Secondary Education Degree?
Guide youth and be a role model. Take a job as a junior high or high school teacher. Work in public or private schools. Specialize in a subject or coach. Your degree also helps prepare you for jobs outside the classroom. With additional training, you can be a guidance counselor, school psychologist, career counselor, juvenile corrections worker, education consultant, and more.
Intro to Education
Go deep
Intro to Education
Discuss education trends, teacher traits, classroom management, and more.
Developmental Psychology
It evolves
Developmental Psychology
Understand the process of physical, emotional, intellectual, and social evolution.
Public Speaking
This will be your job. Ace the skills of public speaking and audience analysis.
Art Appreciation
It's in your eye
Art Appreciation
Learn the history of well-known works of art and explore the creative process.
What are Transfer Majors
The Secondary Education Transfer Major is part of EICC's statewide Transfer Major associate's degree program. It was developed through a partnership between Iowa's community colleges, public universities, and many private colleges. It outlines the precise courses you need to complete if you want to transfer to a four-year college and study this specific major. The partner colleges and universities have approved the EICC courses, so all the credits you earn with us fully transfer toward your bachelor's degree. It's streamlined and simple.
If EICC is your first stop to a four-year degree, this is a great option!
This degree transfers to
Keep Your Transfer Plan Current
Maybe your intended next college has added a new major or maybe you've discovered a new interest. Check with your EICC advisor regularly and keep your own checklist going so you're on the right path making the right progress.
TRANSFER PLANNING
Similar Programs
Not quite right? Consider these instead: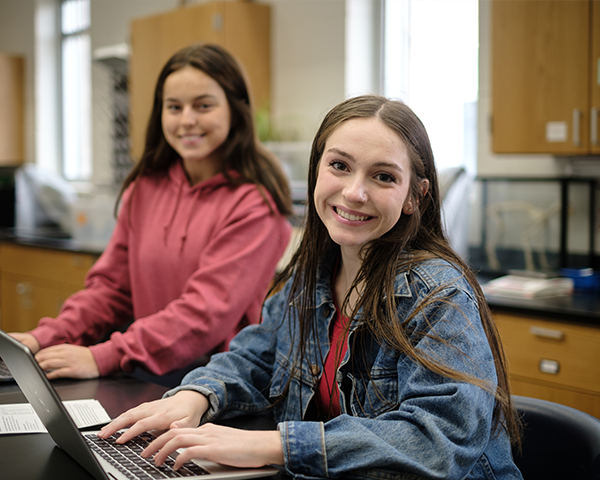 2+2 = Savings
Here's a secret: biology is biology no matter where you take the course. But the cost isn't the same. Do your first two years at EICC and wipe out those required general education courses, then transfer to finish your Bachelor's degree. The 24 months and 60+ credits you earn with us will cost less than one semester at most public or private universities. Save your money. High-quality and low-cost. That's our niche.
Tutoring
Need some extra help? We offer drop-in and scheduled tutoring on each campus, and online, too. You can also get a writing consultation via email. Visit our tutoring centers for more information on services and schedules.
EXPLORE ACADEMIC RESOURCES
Start in High School
Get a jump on your college education while you are in high school. Through our Career Academies, complete a semester to a full year of courses. It's free and cuts down on the time you spend completing your EICC degree, often in half. Save time and money, and launch your career sooner.
LEARN MORE ABOUT CAREER ACADEMIES
Your Degree = Success
Planning to earn a bachelor's? Start here, then transfer your credits or associate's degree. Studies show community college students who transfer into a four-year do better than the students who started there as freshmen.
Get a remarkable education and remarkable head start at EICC.
Explore the value of an associate's degree
Employment and Wage Outlook
How EICC Fits Your Goals
Maybe the 4-year where you plan to transfer has added a new major or perhaps you discovered a new career field. We're here to guide and support you, so let us know. Keep in regular contact with your EICC advisor and lean on these services and resources, too.
Contact Admissions
Contact the admissions representative from the college you plan to attend. If you're not sure, you may contact any rep. Each can answer questions about any college or program.
Office Hours: Monday - Friday, 8 a.m. - 4:30 p.m.
Request Info
Secondary Education Transfer Major: Locations