Business
Associate in Arts (AA) Degree
Apply
Launch your general business studies with us and complete the general education your transfer college will require. Small classes, affordable tuition, and transfer agreements in place. EICC is the smart choice.
What You Learn as a Business Transfer Major
You get a broad education with an emphasis in economics, technology, accounting, and law, as well as math and the liberal arts. Earn your associate's and transfer to finish your bachelor's degree.
What Can I Do With a Business degree?
Where do you want to start? Or go with your bachelor's degree? How about finance? Management? Marketing? Data analytics? Your skills are valuable in so many ways. Run a major retail store or the district office. Work in marketing or lead the advertising team. Open your own business. You have a wide background in management theory and practice, human relations, sales, finance, and economics.
Microeconomics
It's a system
Microeconomics
It's about supply and demand. Competition in the market. Consumer choice.
Business Law
Order in the court
Business Law
Dive into ethics, the U.S. court system, product liability, and contracts.
Financial Accounting
Best practices
Financial Accounting
Learn basic accounting, business terminology, and accepted accounting practices.
Information Computing
Managing data
Information Computing
Dive into spreadsheets, database management and information systems.
What are Transfer Majors
The Business Transfer Major is part of EICC's statewide Transfer Major associate's degree program. It was developed through a partnership between Iowa's community colleges, public universities, and many private colleges. It outlines the precise courses you need to complete if you want to transfer to a four-year college and study this specific major. The partner colleges and universities have approved the EICC courses, so all the credits you earn with us fully transfer toward your bachelor's degree. It's streamlined and simple.
If EICC is your first stop to a four-year degree, this is a great option!
This degree transfers to
Keep Your Transfer Plan Current
Maybe your intended next college has added a new major or maybe you've discovered a new interest. Check with your EICC advisor regularly and keep your own checklist going so you're on the right path making the right progress.
TRANSFER PLANNING
Similar Programs
Not quite right? Consider these instead: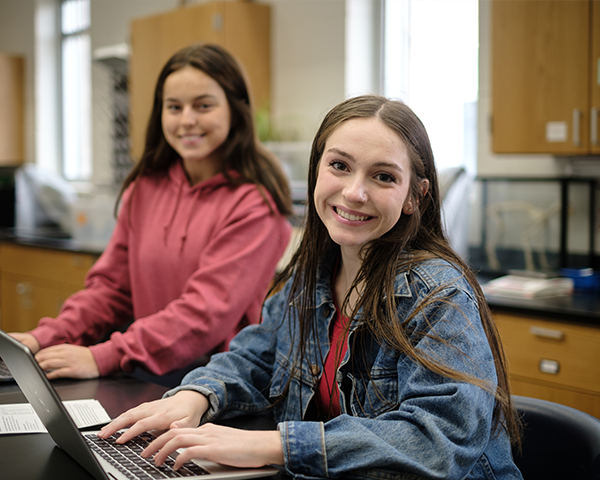 2+2 = Savings
Here's a secret: biology is biology no matter where you take the course. But the cost isn't the same. Do your first two years at EICC and wipe out those required general education courses, then transfer to finish your Bachelor's degree. The 24 months and 60+ credits you earn with us will cost less than one semester at most public or private universities. Save your money. High-quality and low-cost. That's our niche.
Phi Theta Kappa
Phi Theta Kappa (PTK) is the International Honor Society for two-year colleges. Complete 12 credit hours with 3.5 GPA, and your local chapter will send you an invite to join. Each of our colleges has a chapter which means you'll be supported by your peers. PTK offers transfer scholarships, intellectual enrichment, and personal development.
JOIN PTK
Start in High School
Get a jump on your college education while you are in high school. Through our Career Academies, complete a semester to a full year of courses. It's free and cuts down on the time you spend completing your EICC degree, often in half. Save time and money, and launch your career sooner.
LEARN MORE ABOUT CAREER ACADEMIES
Your Degree = Success
Planning to earn a bachelor's? Start here, then transfer your credits or associate's degree. Studies show community college students who transfer into a four-year do better than the students who started there as freshmen.
Get a remarkable education and remarkable head start at EICC.
Explore the value of an associate's degree
Employment and Wage Outlook
How EICC Fits Your Goals
Maybe the 4-year where you plan to transfer has added a new major or perhaps you discovered a new career field. We're here to guide and support you, so let us know. Keep in regular contact with your EICC advisor and lean on these services and resources, too.
Contact Admissions
Contact the admissions representative from the college you plan to attend. If you're not sure, you may contact any rep. Each can answer questions about any college or program.
Office Hours: Monday - Friday, 8 a.m. - 4:30 p.m.
Request Info
Business Transfer Major: Locations