Agriculture Education
Associate in Arts (AA) Degree
Apply
Give us two years, and we give you a remarkable start on your Ag Education bachelor's degree. Get into your Ag classes right away, and at the same time, complete the general education your transfer college will require. With low-cost tuition and guaranteed transfer agreements in place, this is the smart way to do your first two years.
What You Learn as an Agricultural Education Transfer Major
Learn management practices for livestock production and principals of plant life. Study agro-ecosystems and soil management. Other general education classes give you a broader perspective and deeper understanding of our world. You graduate from EICC exceedingly prepared to succeed in your final two years of college.
What Can I Do With an Agricultural Education Degree?
Pursue a career as a high school or middle school agriculture teacher. Or work in agricultural extension and conduct research on crop management, soil health, and livestock production. Some grads choose to pursue agricultural communications and work in marketing and public relations. Or pursue a career in agricultural policy or advocacy, working with government agencies or non-profit organizations to promote and support agriculture.
Advanced Animal Science
Whoa!
Advanced Animal Science
Study sanitation, reproduction, and health and disease controls tied to livestock management.
Crop Science
How do you grow?
Crop Science
Learn about the function, origin, classification, and growth of crop plants.
Soil Science
Get digging!
Soil Science
Soil properties: function, texture, structure, formation, and taxonomy.
General Chemistry
There's a spark
General Chemistry
Dimensional analysis, gases, atomic structure, chemical bonding, etc.
What are Transfer Majors
The Agriculture Education Transfer Major is part of EICC's statewide Transfer Major associate's degree program. It was developed through a partnership between Iowa's community colleges, public universities, and many private colleges. It outlines the precise courses you need to complete if you want to transfer to a four-year college and study this specific major. The partner colleges and universities have approved the EICC courses, so all the credits you earn with us fully transfer toward your bachelor's degree. It's streamlined and simple.
This degree transfers to
Keep Your Transfer Plan Current
Maybe your intended next college has added a new major or maybe you've discovered a new interest. Check with your EICC advisor regularly and keep your own checklist going so you're on the right path making the right progress.
TRANSFER PLANNING
Similar Programs
Not quite right? Consider these instead: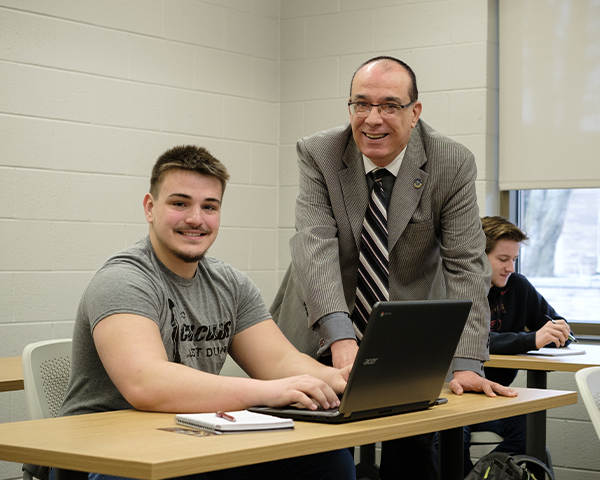 Transfer Major
If EICC is your first stop to a four-year degree, consider our Transfer Major Associate Degree program. We've partnered with universities and colleges to layout the precise course path you complete here before you transfer to the four-year college. Complete general education courses as well as courses required for your major here. The credits fully transfer toward your bachelor's degree.
Learn about Transfer Majors
Your Degree = Success
Planning to earn a bachelor's? Start here, then transfer your credits or associate's degree. Studies show community college students who transfer into a four-year do better than the students who started there as freshmen.
Get a remarkable education and remarkable head start at EICC.
Explore the value of an associate's degree
Employment and Wage Outlook
How EICC Fits Your Goals
Maybe the 4-year where you plan to transfer has added a new major or perhaps you discovered a new career field. We're here to guide and support you, so let us know. Keep in regular contact with your EICC advisor and lean on these services and resources, too.
Contact Admissions
Contact the admissions representative from the college you plan to attend. If you're not sure, you may contact any rep. Each can answer questions about any college or program.
Office Hours: Monday - Friday, 8 a.m. - 4:30 p.m.
Request Info
Agriculture Education Transfer Major: Locations