Build the skills to launch a career in production manufacturing and insight into how far you can go in this field. Set your goal. With us, you will reach it. Great instructors. Hands-on training. Quick entry into the workforce.
What You Learn in Manufacturing Fundamentals
As a production worker, you make products according to the design you are handed. Leave EICC with the foundation of skills to deliver on any such task. Learn about blueprints, materials, specifications, equipment, and more.
Similar Programs
Not quite right? Consider these instead:
Academic Programs vs. Training Programs
Often, EICC students who just want career training sit in the same classroom, learn the same material, and are taught by the same instructor as those working on a degree. You can choose either path. Academic programs are eligible for financial aid and scholarships. Training programs may be covered by other funding sources. We'll outline your options.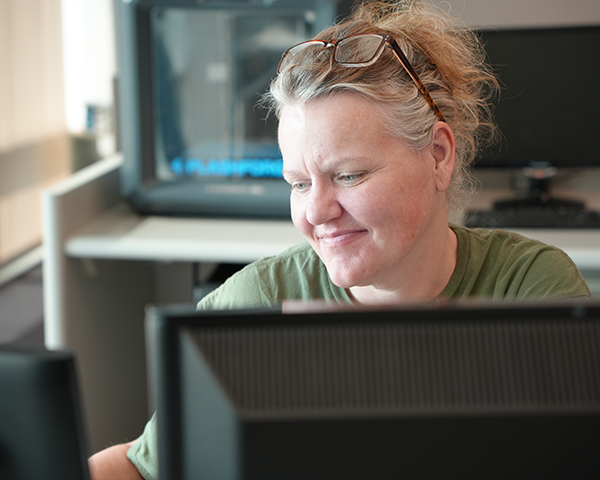 Continue Learning
Stand out and step up in your career. Our Continuing Education programs are key to building new skills, knowledge and credentials. We meet the needs of busy adults. Flexible scheduling options. Online coursework. Experienced instructors with industry connections and valuable real-world insights. Invest in your future. Your success is just a few courses away.
EXPLORE CLASSES
Ready to Launch?
Start here. Earn a certificate. Build new skills in a short-term program. Step into the field and enjoy the edge you now have in the job market. From baking to digital analytics, we give you a launching pad.
Where do you want to go?
Employment and Wage Outlook
How to Pay for EICC
While federal financial aid is not an option for programs offered through our Continuing Education department, financial help is still available. Contact us to find out what you qualify for.
Contact Us
Contact Us
Online registration is available 24 hours a day, seven days a week.
Office hours - Monday - Friday, 8 a.m. to 4:30 p.m.
See Online Catalog
Manufacturing Fundamentals: Locations