Engineering Technology
Associate in Applied Science (AAS) Degree, Diploma, Certificate
Apply
Your choice. We offer six pathways into the engineering technology field, and each dives a bit deeper. Join us for a short-term certificate or a degree. Graduate with the skills and confidence to step into a career. Iowa's Last-Dollar Scholarship may even cover your tuition.
What You Learn in Engineering Technology
Learn principles in engineering, science, math, technology management, and more. Get hands-on as you troubleshoot and develop manufacturing systems. You can be working in the field in two years or less.
Considering a four-year Engineering Technology degree? Take advantage of the transfer agreement we have with the University of Northern Iowa.
More interested in a traditional engineering degree? We offer a pathway for that, too. Check out our Pre-Engineering Transfer Major.
What Can I Do With an Engineering Technology Degree?
Congratulations. You are highly skilled and in high demand. You are prepared to work within any industry, from avionics to food processing. Accept a position as an industrial maintenance or maintenance technician. Specialize in design, robotics, automotive, electrical, and more. Or launch a career as a production planner, health and safety coordinator, or in quality assurance. We prepare you for all of these roles.
Industrial Robotics
Evolution
Industrial Robotics
Explore the history of robots, the work cell, motion, and programming.
Fluid Power Fundamentals
Basic laws
Fluid Power Fundamentals
Cylinders, motors, flow control values, and more. Study & assemble fluid power components.
Motors and Drives
What's the frequency?
Motors and Drives
Study AC and DC motors, variable frequency drives, power distribution, etc...
DC Circuit Analysis
It's electric
DC Circuit Analysis
Calculate current and voltage in circuit configurations. Meet us in the lab.
Similar Programs
Not quite right? Consider these instead:
Tour the Engineering Technology Lab
Iowa's Last-Dollar Scholarship
You may be eligible to earn a degree in this high-demand field for zero tuition costs! You file for financial aid, and if your Expected Family Contribution is at or below $20,000, the state covers the remaining balance beyond the aid for which you are eligible. More than two dozen career programs qualify, including this one. File your FAFSA by July 15.
Learn More
Fast track your career
This is a quick and affordable way to enter the workforce and make good money. Our two-year degree, diploma, and certificate programs are a fast track to successful careers in the trades, technology, healthcare, and more. Enjoy hands-on training, expert instruction, and incredibly affordable education. A four-year degree is great, but two-years or less is even better. Enroll in our programs now, then brag about your quick return on investment.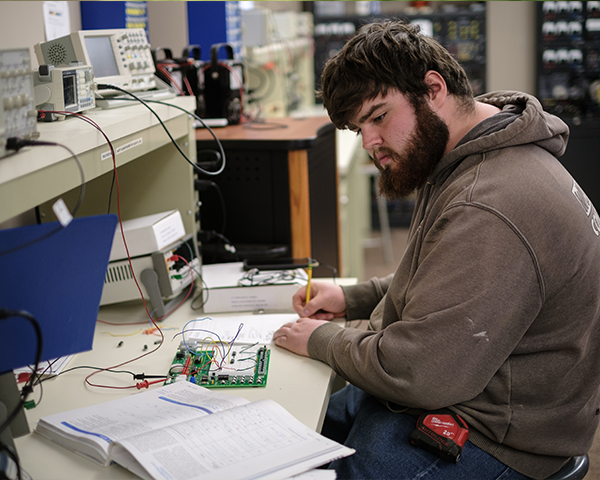 Flexible Eight Week Sessions
Courses are offered in an eight-week format. Take day or evening classes throughout the year, when it works best for you. Focus all of your attention on one subject at a time. Progress through the program faster. And every eight weeks, celebrate another milestone in your education. You mastered that skill. You are more than ready to crush the next.
Start in High School
Get a jump on your college education while you are in high school. Through our Career Academies, complete a semester to a full year of courses. It's free and cuts down on the time you spend completing your EICC degree, often in half. Save time and money, and launch your career sooner.
LEARN MORE ABOUT CAREER ACADEMIES
Your Degree = Success
Complete your education in two years. Qualify for better jobs. Earn a higher salary. Enjoy a better quality of life. The benefits of an associate's degree are impressive and wide-ranging.
Explore the value of an associate's degree
Employment and Wage Outlook
How to Pay for EICC
College is more affordable than you think, especially when you factor in federal and state aid, loan options, scholarships, institutional grants, and Work-Study.
Contact Admissions
Contact the admissions representative from the college you plan to attend. If you're not sure, you may contact any rep. Each can answer questions about any college or program.
Office Hours: Monday - Friday, 8 a.m. - 4:30 p.m.
Request Info
Engineering Technology: Locations