Criminal Justice
Associate in Applied Science (AAS) Degree, Diploma, Certificate
Apply
Learn about the field of law enforcement and do it hands-on. Study defensive tactics, evidence, and prepare for the fitness exam. We cover it all. Departments here and across the U.S. are seeking qualified candidates. Our expert instructors prepare you to walk into a great career. Iowa's Last-Dollar Scholarship may even cover your tuition.
What You Learn in the Criminal Justice Program
Learn about the justice system, government, and the dynamics of crime and society. How to identify and test evidence, and defend yourself in the field. Job shadow. Leave EICC with a short-term certificate or a two-year degree. Either way, you have skills to launch a career.
What Can I Do With a Criminal Justice Degree?
Keep your community and neighbors safe by serving as a local, state, or federal law enforcement officer. Dispatch life-saving emergency services while calming the caller who dialed 911. Work in corrections or provide security services. Your education and skills are in high demand. Climb the ranks and make your mark.
Criminology
How did you develop?
Criminology
Study human behavior and crime. Learn about personality development, cultural, and social forces.
Communications
Learn to talk.
Communications
Take Spanish or American Sign Language. Build interviewing and cultural communication skills.
Explore Careers
Why look within?
Explore Careers
ID your interests, abilities, and values. Pinpoint a career goal. Develop the needed skills.
Conditioning
Get physical!
Conditioning
Get in shape. Law enforcement physical training. Weights, running, stretching, and more.
Similar Programs
Not quite right? Consider these instead:
Make a difference in your hometown
Did you know Scott County Sheriff Tim Lane and former Davenport Police Chief Paul Sikorski have more in common than just their badges? And desire to protect and serve? Each got their start, along with many other local law enforcement professionals, by earning an associate's degree with an emphasis in Criminal Justice from Eastern Iowa Community Colleges (EICC).

In EICC's service area alone, there are law enforcement opportunities at the municipal, county, state, and federal level.

"The future is wide open for those people who want to join law enforcement," said Scott County Sheriff Tim Lane. "There is a lot more demand than people pursuing the field."

Our AAS program will give you the hands-on training to start a successful career - just like these two alums!
Pictured: Former Davenport Police Chief Paul Sikorski
Read full story Protect & Serve
Ready to go?
You must pass a background check to be admitted into the program.
Iowa's Last-Dollar Scholarship
You may be eligible to earn a degree in this high-demand field for zero tuition costs! You file for financial aid, and if your Expected Family Contribution is at or below $20,000, the state covers the remaining balance beyond the aid for which you are eligible. More than two dozen career programs qualify, including this one. File your FAFSA by July 15.
Learn More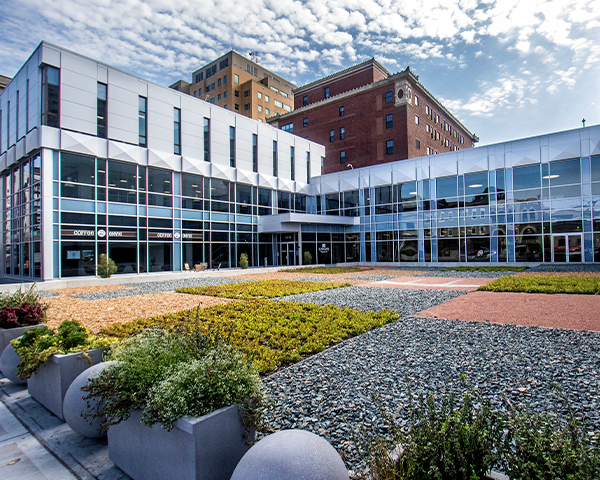 Start at Any Campus
You choose. Complete the first year of your Criminal Justice AAS at our Clinton, Muscatine, or Scott Community College campuses. It is easy to get started wherever you are. In your second year, enjoy hands-on courses in classrooms and labs specifically designed for the program at the Scott Community College Belmont Campus.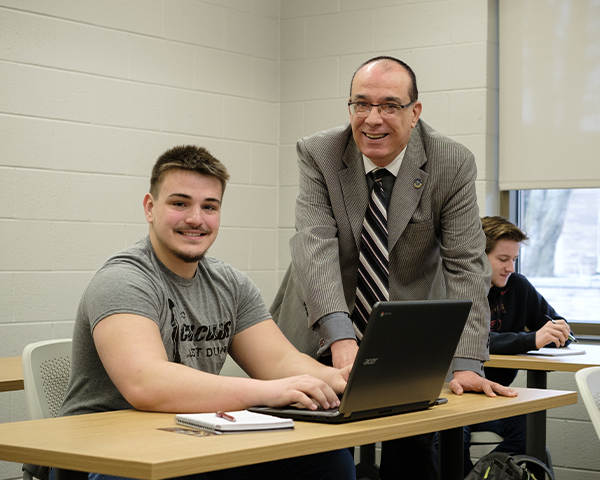 Transfer Major
If EICC is your first stop to a four-year degree, consider our Transfer Major Associate Degree program. We've partnered with universities and colleges to layout the precise course path you complete here before you transfer to the four-year college. Complete general education courses as well as courses required for your major here. The credits fully transfer toward your bachelor's degree.
Learn about Transfer Majors
Start in High School
Get a jump on your college education while you are in high school. Through our Career Academies, complete a semester to a full year of courses. It's free and cuts down on the time you spend completing your EICC degree, often in half. Save time and money, and launch your career sooner.
LEARN MORE ABOUT CAREER ACADEMIES
Your Degree = Success
Complete your education in two years. Qualify for better jobs. Earn a higher salary. Enjoy a better quality of life. The benefits of an associate's degree are impressive and wide-ranging.
Explore the value of an associate's degree
Employment and Wage Outlook
How to Pay for EICC
College is more affordable than you think, especially when you factor in federal and state aid, loan options, scholarships, institutional grants, and Work-Study.
Contact Admissions
Contact the admissions representative from the college you plan to attend. If you're not sure, you may contact any rep. Each can answer questions about any college or program.
Office Hours: Monday - Friday, 8 a.m. - 4:30 p.m.
Request Info
Criminal Justice: Locations