Early Childhood Education
Associate in Applied Science (AAS) Degree, Diploma, Certificate
Apply
If you see the magic and potential in little ones and want to help them thrive, we give you the tools. Small classes, affordable tuition, and attentive EICC instructors. Like you, they want their students to thrive. Choose online or in-person.
What You Learn in Early Childhood Education
In our early childhood education program, learn how to teach children from birth to age 8. Discover how play is a vehicle that supports development and build lesson plans that spark growth. Work with little ones in classrooms across the district. And learn to work with and support their families, too.
What Can I Do With an Early Childhood Education Degree?
Be a teacher and provide children with an educational foundation. Work in a daycare or a private school. Open your own in-home daycare or work as a classroom paraeducator. It is a challenging and rewarding career path.
You can keep going and earn your bachelor's degree and teacher certification. Then claim your classroom in a K-12 public or private school system, and be that special teacher who sparks wonder, curiosity, and lifelong learning. You can do it, and an articulation agreement we have with Upper Iowa University makes that next step even easier.
Exceptional Learner
Support all abilities
Exceptional Learner
Dive into the field of special education and tools to support all learners.
Early Childhood Guidance
Interact
Early Childhood Guidance
Be supportive. Learn to assess and guide behaviors. We'll teach you.
Leadership Development
A way to grow
Leadership Development
Study moral and ethical responsibilities in the classroom.
Children's Literature
Story time!
Children's Literature
Understand why and what children read, and how to select books they will love.
Similar Programs
Not quite right? Consider these instead: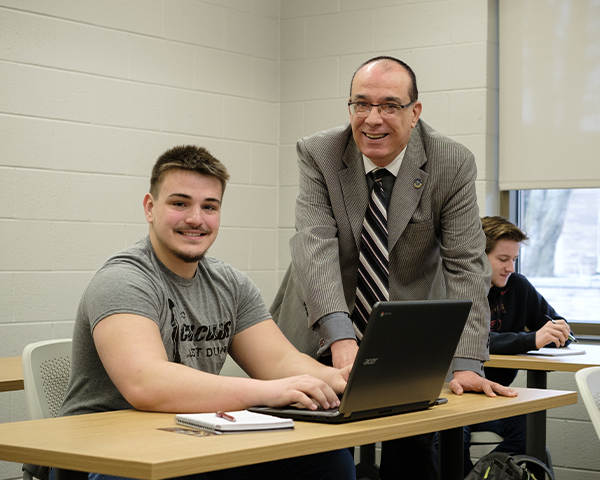 Transfer Major
If EICC is your first stop to a four-year degree, consider our Transfer Major Associate Degree program. We've partnered with universities and colleges to layout the precise course path you complete here before you transfer to the four-year college. Complete general education courses as well as courses required for your major here. The credits fully transfer toward your bachelor's degree.
Learn about Transfer Majors
Gain real-world experience
Put what you've learned into practice with supervised field experiences. Work in local childhood education centers. Interact with kids of all abilities and backgrounds. Communicate with their families. Learn about professional relationships and behavior, curriculum planning, program routines and more.
Go from CDA to college graduate
Already earned a Child Development Associate through EICC's Continuing Education Department? Don't stop now. If you want to earn an Early Childhood Education associate's degree, you likely won't have to start from scratch. We have an agreement that makes you eligible to receive up to 17 credit hours toward your degree – that's more than a semester of work you won't have to repeat.
Scholarships just for you
The Iowa Association for the Education of Young Children (Iowa AEYC) is a nonprofit organization supporting efforts to improve the early care and education profession. Their T.E.A.C.H. (Teacher Education and Compensation Helps) scholarship program will help eligible students pay for tuition, books, internet and more.
Learn More and Apply
Dedicated Program Advisor
We know your time is valuable and we honor it. Our program has one advisor who is dedicated to supporting you every step of the way through graduation. One call or one email, to one person. Get all of your questions answered, guidance on courses and schedules, and a familiar face and voice who recognizes yours, too.
Contact Angelique
Fast track your career
This is a quick and affordable way to enter the workforce and make good money. Our two-year degree, diploma and certificate programs are a fast track to successful careers in the trades, technology, healthcare, and more. Enjoy hands-on training, expert instruction, and incredibly affordable education. A four-year degree is great, but two-years or less is even better. Enroll in our programs now, then brag about your quick return on investment.
Online, On-Campus or Both!
Build a schedule to fit your needs. Take classes 100% online, join us in-person, or mix and match. No matter how you choose to take your classes, we fully support you in reaching your goals. In addition to your instructors, take advantage of advising, tutoring, and the wealth of services EICC students enjoy.
Learn more about Online Classes
Start in High School
Get a jump on your college education while you are in high school. Through our Career Academies, complete a semester to a full year of courses. It's free and cuts down on the time you spend completing your EICC degree, often in half. Save time and money, and launch your career sooner.
LEARN MORE ABOUT CAREER ACADEMIES
Your Degree = Success
Complete your education in two years. Qualify for better jobs. Earn a higher salary. Enjoy a better quality of life. The benefits of an associate's degree are impressive and wide-ranging.
Explore the value of an associate's degree
Employment and Wage Outlook
How to Pay for EICC
College is more affordable than you think, especially when you factor in federal and state aid, loan options, scholarships, institutional grants, and Work-Study.
Contact Admissions
Contact the admissions representative from the college you plan to attend. If you're not sure, you may contact any rep. Each can answer questions about any college or program.
Office Hours: Monday - Friday, 8 a.m. - 4:30 p.m.
Request Info