Run for the EICC Board of Trustees
Filing paperwork is due by Thursday, September 21 at 5 p.m. CST.
Make a difference in your community at THE Community's College
Eastern Iowa Community Colleges is governed by a locally-elected Board of Trustees made up of people from diverse backgrounds and experiences. They offer their time and talent to ensure EICC remains responsive to local community needs while staying true to our mission and vision.
Serve your community and make an impact in the lives of students by running for EICC's Board. The Board meets monthly and is responsible for the educational, physical, and financial well-being of the district. The Board also sets legal policy for the district.
The Regular School/City Election Day is Tuesday, November 7.
File paperwork with:
Nicky Friedrichsen, Assistant Director of Strategy & Resource Development

See Filing Instructions at scottcountyiowa.gov
New EICC Director Districts
2023 EICC Director Districts
2023 EICC Director District 1
2023 EICC Director District 2
2023 EICC Director District 3
2023 EICC Director District 4
2023 EICC Director District 5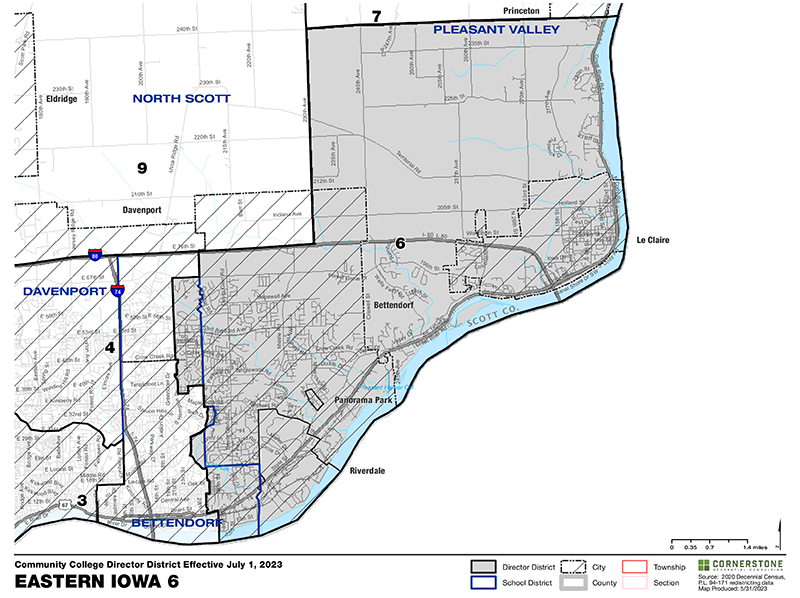 2023 EICC Director District 6
2023 EICC Director District 7
2023 EICC Director District 8
2023 EICC Director District 9
Download PDF of 2023 EICC Director Districts
Director District by Community School District
Effective August 1, 2023

Population Total: 292,448
Ideal District Population: 32,494
Overall Plan Deviation: 1.134
Overal Population Range: 4,187