Opens in a new window
Opens an external site
Opens an external site in a new window
Chat with Us
Art of Gardening at Muscatine Community College - March 18
Share:
2/24/23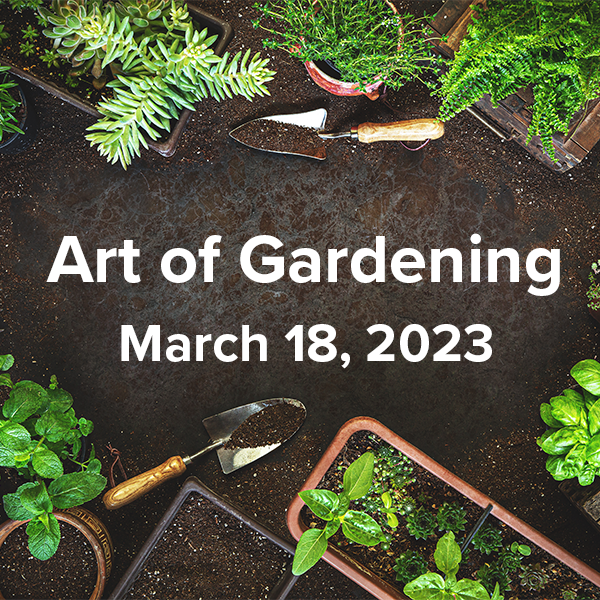 Eastern Iowa Community Colleges' Continuing Education Department and the Muscatine Master Gardeners will hold the annual Art of Gardening seminar in March. The event aims to educate and inspire others to seek enjoyment and fulfillment in gardening.
Sessions will cover everything from raised bed gardening, 2023 garden trends, and shade gardening, just to name a few. In addition, a variety of vendors will showcase the latest products.
The seminar will be held from 8 a.m. - 3:30 p.m. on Saturday, March 18, at Muscatine Community College's Strahan Hall, 152 Colorado St., Muscatine, Iowa. Registration is $50 and includes lunch.
Participants can attend up to five breakout sessions on topics of their choosing. For an additional fee, they can take part in a number of hands-on sessions including "make and take" projects such as a fairy garden, terra cotta fountain, spring decorations, and worm composting bin.
Whether it is a beginning or experienced gardener, the event offers something for everyone.
To view the schedule and a full list of sessions, visit eicc.edu/artofgardening.
Registration can be completed by mail. Download the registration form to get started. Checks should be made out to Eastern Iowa Community Colleges. Card payments can be made over the phone at 563-288-6161 or 563-441-4100.
The deadline to register is March 10 — or until spots are filled — so don't delay.
Questions? Call 563-288-6161 or 1-800-351-4669, email eiccinfo@eicc.edu.
Muscatine County Master Gardeners is a program of Iowa State University Extension and Outreach, Muscatine County.
Questions? Call toll-free 1-888-336-3907, email eiccinfo@eicc.edu or contact the college nearest you and ask to speak to an advisor.
Clinton Community College, 563-244-7000
Muscatine Community College, 563-288-6000
Scott Community College, 563-441-4000

t is the policy of Eastern Iowa Community College District not to discriminate in its programs, activities, or employment on the basis of race, color, national origin, sex, disability, age, sexual orientation, gender identity, creed, religion, and actual or potential family, parental or marital status, as required by the Iowa Code §§216.6 and 216.9, Titles VI and VII of the Civil Rights Act of 1964 (42 U.S.C. §§ 2000d and 2000e), the Equal Pay Act of 1973 (29 U.S.C. § 206, et seq.), Title IX (Educational Amendments, 20 U.S.C. §§ 1681-1688), Section 504 (Rehabilitation Act of 1973, 29 U.S.C. § 794), and Title II of the Americans with Disabilities Act (42 U.S.C. § 12101, et seq.).

If you have questions or complaints related to compliance with this policy, please contact EICC's Equal Employment Opportunity Officer/Equity Coordinator, Eastern Iowa Community College District, 101 West Third Street, Davenport, Iowa 52801, 563-336-5222, equity@eicc.edu or the Director of the Office for Civil Rights U.S. Department of Education, John C. Kluczynski Federal Building, 230 S. Dearborn Street, 37th Floor, Chicago, IL 60604-7204, Telephone: (312) 730-1560 Facsimile: (312) 730- 1576, TDD (800) 877-8339 Email: OCR.Chicago@ed.gov.