Opens in a new window
Opens an external site
Opens an external site in a new window
Chat with Us
Martin Luther King, Jr. Celebration - Jan. 15
Share:
1/4/23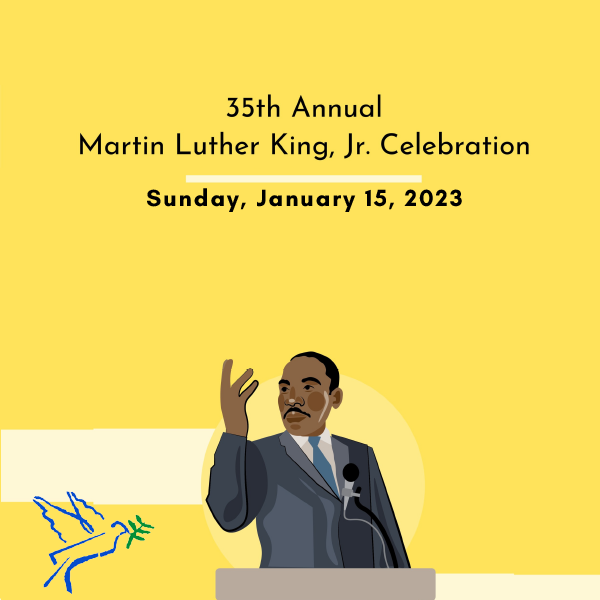 On Sunday January 15, the community-wide annual Martin Luther King, Jr. Celebration will be held from 1:30 - 3 p.m. at Clinton Community College, 1000 Lincoln Blvd, Clinton IA, in the auditorium. The event is free and open to the public.
This year marks the 35 year of the community-wide celebration. "The Committee strives to bring to fruition an Event that is filled with fellowship, music, and inspiration for participants to continue to be stewards for Dr. King's legacy of non-violence, equality, peace, and justice while Living Peace 365" said MLK Committee member Mardell Mommsen Flippen. "We hope community members will come out to join us in this celebration of the life of Dr. King."
Featured at this year's celebration will be Spoken Word by Victoria Thomas. Ms. Thomas is the daughter of Wanda and Haydn Thomas and the granddaughter of the late former Mayor LaMetta Wynn. The 20th Annual MLK Peace and Justice Award will be presented to Scott Stubblefield. In addition to Stubblefield, the late Rev. Lionel Davis and Lydia Halbach will be honored posthumously as Legacy Peace & Justice honorees. Along with music and fellowship, the Event will feature blessings from the following faiths: Baptist, Catholic, Islamic followed with a re-enactment of a freedom walk throughout the halls of Clinton Community College.
For more information on the MLK Celebration, the MLK committee, or the Living Peace 365 initiative, please contact Mardell Mommsen Flippen at 563-244-7006.
Questions? Call toll-free 1-888-336-3907, email eiccinfo@eicc.edu or contact the college nearest you and ask to speak to an advisor.
Clinton Community College, 563-244-7000
Muscatine Community College, 563-288-6000
Scott Community College, 563-441-4000

It is the policy of Eastern Iowa Community College District not to discriminate in its programs, activities, or employment on the basis of race, color, national origin, sex, disability, age, sexual orientation, gender identity, creed, religion, and actual or potential family, parental or marital status, as required by the Iowa Code §§216.6 and 216.9, Titles VI and VII of the Civil Rights Act of 1964 (42 U.S.C. §§ 2000d and 2000e), the Equal Pay Act of 1973 (29 U.S.C. § 206, et seq.), Title IX (Educational Amendments, 20 U.S.C. §§ 1681-1688), Section 504 (Rehabilitation Act of 1973, 29 U.S.C. § 794), and Title II of the Americans with Disabilities Act (42 U.S.C. § 12101, et seq.). If you have questions or complaints related to compliance with this policy, please contact Debora J. Sullivan, Equal Employment Opportunity Officer/Equity Coordinator, Eastern Iowa Community College District, 101 West Third Street, Davenport, Iowa 52801, 563-336-3487, djsullivan@eicc.edu or the Director of the Office for Civil Rights, U.S. Department of Education, Citigroup Center, 500 West Madison Street, Suite 1475, Chicago, Illinois 60661-7204, phone number 312-730-1560, fax 312-730-1576, OCR.Chicago@ed.gov.